Top Weed Strains in Arizona for Summer-Fall 2018
Written by Chris Weatherall on Aug 10, 2018
As summer turns to fall in Arizona, and the monsoon storms bring an entirely different flavor to life in AZ, Kind Meds is putting together our list of the best weed strains to try this year.
Best Weed Strains in Arizona in 2018
Bruce Banner
A quick-flowering and tall sativa-dominant hybrid, Bruce Banner flower is known for its strength, like its comic-book namesake. Born from a combination of OG Kush and Strawberry Diesel, "BB" has the happy and uplifted effects of the strawberry strain, and balances its headiness with even more euphoric effects from the OG Kush genetics.
In some cases, having a double-shot of heady high THC genetics can make a bud too powerful, or cause anxiety and paranoia. Not with Bruce Banner. The high is upbeat and relaxed. Because this strain can give you motivation and energy through its relaxed and happy effects, this makes Bruce Banner our stop suggestion of strains to try in Arizona this summer-fall.
Our Favorite Bruce Banner Weed Strain Review:

"This is an outdoor bud – not that it was grown outdoors, but it makes you want to be outdoors and enjoying life."
– A Happy Kind Meds Customer
Kosher Kush
You've heard of it before; this popular – and previously clone-only strain – was always one of the most sought-after strains of indica, and thanks to medical and legalization efforts, Kosher Kush is more widely available.
First off, we should address the incredibly high THC levels in Kosher Kush. With some sample tests coming out as high as 30% THC, this is high strength medicine that offers pain-relief and relaxation as it's dominate properties. Couch-lock is inevitable with this strain, whether that is what you were looking for or not. If Bruce Banner is a strain to use outdoors, than Kosher Kush is its indoor counterpart.
Sticky and sweet, this is a pungent flower with fruity notes, and even though it is a hybrid, you can certainly feel, taste and smell the Indica dominance.
Our Favorite Kosher Kush Weed Strain Review:

"Kosher is my go-to for pain relief on days when my chronic pain is the worst. As long as I don't have to leave the house that day, I can medicate the pain until it ultimately puts me into a soft and peaceful slumber"
– A Medicated, Sleepy Kind Meds Customer
Jilly Bean
Another strain that offers happy and euphoric effects to fight stress, depression and pain, Jilly Bean is a short bushy strain that gives dense and fruity flowers. A cross of "Orange Velvet" and "Space Queen" strains, Jilly Bean's Sativa effects hit you quickly – making you feel happy and energetic – and its Indica effects slowly wash over and replace the receding Sativa effects. This strain has also been noticed for its aphrodisiac properties, especially in women, and many use it to treat their symptoms of low libido.
Like a time-released treatment for the symptoms that ail you, Jilly Bean brings relief from stress and depression for an extended period of time. The appearance of the flower itself is what truly sells its value, with the flowers taking on a maroon-green, almost alien color when looked at closely.
Our Favorite Jilly Bean Weed Strain Review:

"Yes, I gave this strain a try for its reported aphrodisiac qualities. Let's just say, it works."
– A Coy, but Satisfied Customer

Larry OG
A favorite of Kind Meds' budtenders, Larry OG is a citrusy flower with a hint of pine in its aroma. Recommended for stress and depression, Larry OG is an Indica-dominant hybrid that acts very much like a milder Sativa. Those beautiful orange hairs and gleaming crystals show its potency, but its strength is not overwhelming. This strain offers a balanced high with the headiness coming in softly after the initial body effects characteristic of a good Indica.
Our Favorite Larry OG Weed Strain Review:

"I try a lot of different strains and I sometimes forget that what I am actually wanting is a mellow, peaceful high – rather than the powerfully strong effects of some of the stronger strains I try. Larry OG gives such a peaceful feeling, and puts me in a content and peaceful place."
– A Very Content and Peaceful Kind Meds Customer
Moose and Lobsta'
A breakout hit in Arizona, Moose and Lobsta' was heavily introduced to the Phoenix area in the past year, and its popularity has spread, with many customers clamoring for more. A 70/30 Sativa-dominant hybrid, comes from "Kali Snapple" and "Oregon Huckleberry" strains. It is recommended for neurological pain and depression, with its heady high, and its energy-giving effects make it the perfect medical strain for fighting fatigue that is seen in so many Arizona qualifying conditions.
The aroma of Moose and Lobsta' is a bit on the skunky side, with after-notes of sweet and tropical fruit flavor. See why so many Arizonans are calling this the best strain for creativity in Arizona.
Our Favorite Moose and Lobsta' Weed Strain Review:

"I can't say enough good things about Moose and Lobsta'. The first time I tried it, I knew I had found my new favorite strain for medicating without losing energy."
– An Energized Kind Meds Customer
J1
The skunky Sativa child of parent strains "Jack Herer" and "Skunk #1," J1 – or "Jack One" – is known for its happy, relaxed and uplifted effects – which don't get too heady. It will leave you in a relaxed and "at-ease" state, but with a clear head. Its 30-Indica /70-Sativa ratio makes for a perfect Sativa hybrid, and a great fit for melting the stress and anxiety away.
Much like the Bruce Banner, this is a strain that makes you want to get out and enjoy the seasonal change from summer to fall in Arizona. However, where the Bruce Banner is stronger and harder hitting, J1 is a pillow fight compared to the boxing match of Bruce Banner. Don't let the softer approach of J1 fool you though, this is a high THC strain, with THC levels reaching 24% in some samples.
Our Favorite "Jack One" Weed Strain Review:

"I am used to higher strength THC strains and am used to some of the more aggressive highs that these strains bring. J1 has that same strength, but it delivers it in a softer way."
– An Experienced Kind Meds Customer
AMF OG
A strain that literally has its roots in Arizona, AMF OG stands for "Adios Motherf*****," a name that makes sense when you feel its initial Indica effects, and makes less sense when you find out it is a mix of Obama Kush and Skywalker OG. If the name doesn't sell you on trying this strain, its earthy and dank flavor will.
A great strain for pain, anxiety, restlessness, and insomnia, the cerebral effects are strong with this strain, and its strong body sensations round out its effects. It is recommended more for nighttime use, or use when you don't have to be mobile.
Our Favorite AMF OG Weed Strain Review:

"Zzzzzz… Zzzzzz."
– A Very Rested Kind Meds Customer
Triangle Kush (AKA "The White")
Triangle Kush/The White is a strain that has been called a "fun strain," that still offers some heady and euphoric effects, Even though it is a strong Indica strain, with characteristic Indica effects. Named after the famous (or infamous) Tampa-Jacksonville-Miami growing region of Florida, this strain is related closely to OG Kush, and distantly related to Hindu Kush, Lemon Thai, and Chemdog strains.
THC levels in Triangle Kush (The White) average around 20%, which makes it a very relaxing high, but still offers you a bit of the euphoria, happiness and creativity you can expect in mid-to-high THC level strains. Because it packs a powerful punch against anxiety, and promotes relaxation, many PTSD sufferers and those with anxiety problems find it helps when their symptoms are at their worst.
Our Favorite Triangle Kush Weed Strain Review:

"It's an 8:00pm strain. Not heavy-duty enough to put you right to bed, but not an early morning, energetic strain either. It's the sort of 'mellow you out after a hard day at work' but still get dinner made strain."
– A Mellowed Kind Meds Customer
Dr. Who
With earthy, woody flavors, Dr. Who is a strain that likes to play doctor – offering relief of minor pain, stress, nausea and a host of other symptoms of Arizona qualifying conditions. Customers have sworn that this strain helps with MS, ADHD, chronic pain, and serious ailments, without causing a feeling of being sedated.
It isn't just physical symptoms that Dr. Who addresses, in addition to the body buzz, the happy and relaxed effects make it a great option for those dealing with stress, headaches and depression.
Our Favorite Dr. Who Weed Strain Review:

"I suffer from neuropathy pain, which makes the pain not only physical but mental. Dr. Who is the best hybrid I have found to give me relief from both sides of my pain."
– A Pain-Free Kind Meds Customer
White Romulan
A "Bonus" addition to our list, we wanted to include White Romulan due to its well-balanced effects. A perfect 50/50 hybrid, White Romulan offers a well-rounded set of mild effects, including body effects that start slow and give deep relaxation, and uplifting heady effects that reflect the Sativa side of the flower. Patients often use White Romulan for everything including stress, headaches, loss of appetite, pain, nausea, depression, and mild insomnia.
If you are new to choosing strains to fit your symptoms, White Romulan can be a good first choice to see how you react to the effects of medical marijuana. The potency is mild-to-moderate, and this strain can create a baseline that you can judge the many effects of other strains.
Our Favorite White Romulan Weed Strain Review:

"This strain wasn't too strong, or over the top. I am glad I started with this strain before trying others."
– A Newly Qualified Kind Meds Customer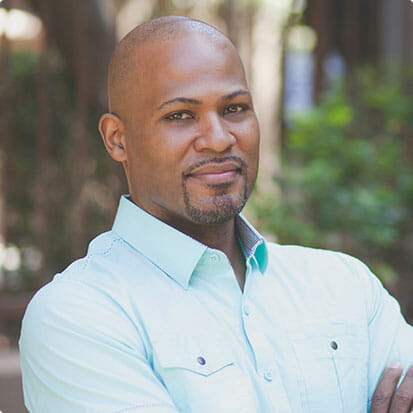 I'm a kid at heart disguised as a cannabis researcher and business owner. I've always enjoyed providing insight in the form of reviews (anime, video games, etc.) So, when the cannabis industry took off, it sparked my interest in researching, reviewing, and chronicling all things within. When I'm not researching, I'm spending time with my family, riding my motorcycle, and finding new entrepreneurial pursuits.